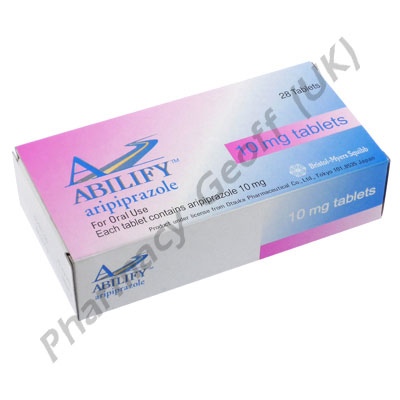 Our price: £76.07
Aripiprazole 10mg
Aripiprazole (Abilify 10mg) is a type of atypical antipsychotic that helps with improving the chemical balance of the brain. It is typically used along with other medicines to help offer the very best outcome for the user.
What is Aripiprazole Used for?
Aripiprazole is used to help with reducing manic depression or schizophrenia. It is sometimes used to treat bipolar disorder. It can be given to those 10 years of age and older. In some instances, it is used to help children with Autism that are from the ages of 6 to 17 years of age. Children with chronic aggression, tantrums, and mood changes may be given Aripiprazole to help regulate their behaviors.
Aripiprazole Dosage & Administration
The lowest dose offered of Aripiprazole is 10mg. This is typically the dose that a patient is going to start out with. If necessary, they can be moved to the 15 mg or 30 mg dose. The goal is to offer the patient the best results with the least amount of medicine and the least amount of side effects.
The most common form of Aripiprazole is a tablet. It should be taken daily, even when a person is feeling better. Aripiprazole isn't a cure for your health concerns. Skipping doses can result in the symptoms it is treating to get worse or to return. Aripiprazole can be taken with food or on an empty stomach. For the best results, it should be taken at the same time every day. It can take at least 2 weeks of daily use for improvements to be noted.
Aripiprazole Side Effects & Precautions
It is important to tell your doctor about any other products you currently use. This includes prescription medicines, over the counter products, herbal remedies, and vitamins. Not all of them will interact well with the introduction of Aripiprazole. Individuals that have had problems with an addiction to drugs/alcohol may not be a good candidate for the use of Aripiprazole. Individuals that have heart disease, an irregular heartbeat, or high blood pressure shouldn't take Aripiprazole as it could make these conditions worse. This isn't recommended for those with dementia as it can cause death at an earlier age.
If you are pregnant or trying to get pregnant, tell your doctor. Studies indicate that taking Aripiprazole in the latter stage of pregnancy can create some problems for the newborn. Women who are breastfeeding shouldn't use this medication.
Avoid the use of alcohol while using Aripiprazole. The combination can result in drowsiness. It can also result in mental health symptoms getting worse. During the early stages of using Aripiprazole, it is possible that thoughts of suicide can increase. This is especially true in younger users. It is important to closely monitor such individuals and to make sure any suicidal thoughts are immediately reported to the doctor.
Common side effects from Aripiprazole include:
Constipation
Diarrhea
Dizziness
Headache
Heartburn
Increased Appetite
Joint Pain
Weight Gain