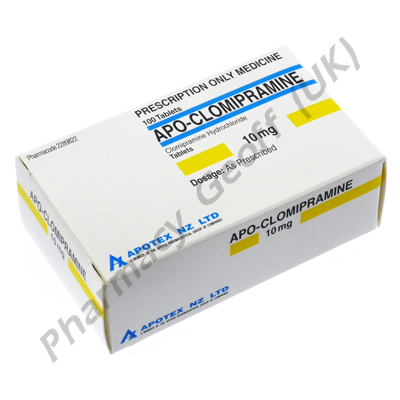 Our price: £22.00
| | | |
| --- | --- | --- |
| Main Use | Active Ingredient | Marketed Name |
| Antiobsessional medicine | Clomipramine Hydrochloride | Apo-Clomipramine |
Uses
Apo-Clomipramine (Clomipramine Hydrochloride) helps to treat OCD (obsessive compulsive disorder) by affecting neurotransmitters in the brain, so as to lessen the urge to perform repeated tasks and reduce obsessive thoughts. This antiobsessional medication belongs to a class of medicines referred to as tricyclic antidepressants. Although the exact way in which it controls OCD symptoms is unclear, medical experts have theorized that its ability to block serotonin reuptake may play a vital role in its ability to affect compulsions and obsessive behaviour. Other conditions for which patients have taken it for include depression, premature ejaculation, anxiety, pain, cataplexy and other disorders.
Dosage and Administration
Apo-Clomipramine (Clomipramine Hydrochloride) is provided in tablet form, each of which contains 10mg of the active ingredient. Patients may be told by their doctor that the adult dosage for obsessive compulsive disorder, depression or other conditions is 25mg per day at the beginning of treatment. However, this may be titrated by the doctor in accordance with the patient's response to treatment. Never make any changes to your dosage unless doing so under the instruction of your doctor.
Side effects
Patients administering Apo-Clomipramine (Clomipramine Hydrochloride) as part of their medical treatment should note that some side effects are possible, including:
Sweating
Blocked nose
Feeling fatigued
A reduced ability to concentrate
Changes related to sexual function
It is necessary to notify your doctor if any side effects are experienced during the course of treatment. Although mild reactions are more likely to occur, certain side effects which are serious in nature are also possible (but less common). You must immediately attend the hospital if you see things which are not there, if you experience pain affecting the eyes, if you suffer from bladder control problems, seizures, muscle stiffness or any other serious reactions.
Precautions
Sudden behavioural changes or serious depression, which may even include suicidal thoughts may occur in rare cases. Consult your doctor straight away if this happens.
Abrupt cessation of treatment could lead to withdrawal symptoms (including poor appetite, sleep problems, restless behaviour, feeling anxious and sickness). Your doctor may slowly reduce your dosage over a specified period of time in order to prevent this.
Seek immediate emergency medical attention if you suffer an allergic reaction. Symptoms to watch for, which may be indicative of a reaction, include skin rashes, hives, swelling of the face or limbs, trouble breathing, and trouble swallowing.
Always use Apo-Clomipramine (Clomipramine Hydrochloride) as you have been prescribed by your doctor. Never self-medicate or change your dosage without first consulting your doctor. The correct dosage can vary depending on your health, medical history, and the severity of the condition being treated.
This medication may not be safe for all patients. Before you begin using it always disclose the following to your doctor:
If you are pregnant or breastfeeding.
If you suffer from any allergies.
If you suffer from any other health conditions or illnesses.
If you are using any other medicine (including all non-prescription).
If you are using any supplements, vitamins, or herbal products of any kind.