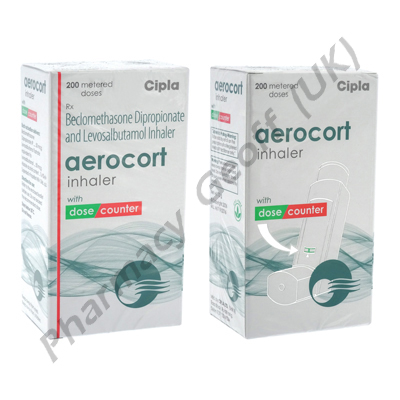 Our price: £7.50
| | | |
| --- | --- | --- |
| Main Use | Active Ingredient | Marketed Name |
| Asthma | Beclomethasone Dipropionate, Levosalbutamol | Aerocort Inhaler |
Uses
Aerocort Inhaler (Beclomethasone Dipropionate/Levosalbutamol) is used to treat asthma. This inhaler is not a rapid relief inhaler, but is used as part of an ongoing treatment to help prevent or reduce the occurrence of asthma attacks. It combines two active ingredients into one product. Levosalbutamol is known as a bronchodilator, and it works by widening the airways, thereby making it easier for the patient to breathe. Beclomethasone dipropionate is a type of steroid, which works by preventing inflammation of the airways. When combined, these two ingredients may help to reduce asthma attacks.
Dosage and Administration
Aerocort Inhaler (Beclomethasone Dipropionate/Levosalbutamol) is inhaled directly using the inhaler provided. The dosage required will vary for each patient, depending on the condition being treated, as well as the patient's age. Adult patients are sometimes told to administer two inhalations, 3 to 4 times per day. The dosage for children is less than the adult dosage. All patients must consult their doctor before using this medication, so that the correct dosage can be prescribed.
Side effects
Aerocort Inhaler (Beclomethasone Dipropionate/Levosalbutamol) may sometimes cause patients to show signs of side effects, such as:
Tremors
Headache
Oral thrush
Pain affecting the muscles
Difficulty sleeping
Tell your doctor about all side effects that occur. This is especially important if you experience persistent side effects. All patients using this inhaler should be aware that it can also cause more severe side effects. You must immediately consult your doctor if you notice muscle cramps, a worsening of asthma symptoms, seizures or any other side effects.
Precautions
If you have a history of suffering from heart conditions, high blood pressure, hyperthyroidism, diabetes or seizures, it is necessary for you to inform your doctor before you begin using this medication.
While you are using this medication, you should not have any vaccinations unless your doctor tells you to do so.
Seek immediate emergency medical attention if you suffer an allergic reaction. Symptoms to watch for, which may be indicative of a reaction, include skin rashes, hives, swelling of the face or limbs, trouble breathing, and trouble swallowing.
Always use Aerocort Inhaler (Beclomethasone Dipropionate/Levosalbutamol) as you have been prescribed by your doctor. Never self-medicate or change your dosage without first consulting your doctor. The correct dosage can vary depending on your health, medical history, and the severity of the condition being treated.
This medication may not be safe for all patients. Before you begin using it always disclose the following to your doctor:
If you are pregnant or breastfeeding.
If you suffer from any allergies.
If you suffer from any other health conditions or illnesses.
If you are using any other medicine (including all non-prescription).
If you are using any supplements, vitamins, or herbal products of any kind.