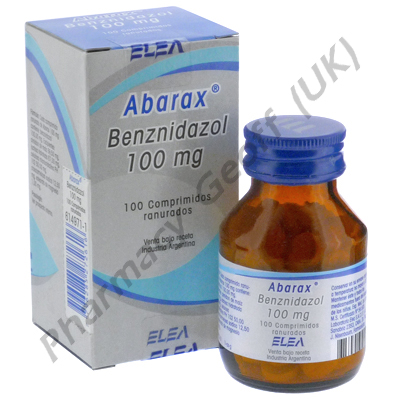 Our price: £223.00
| | | |
| --- | --- | --- |
| Main Use | Active Ingredient | Marketed Name |
| Treatment of Chagas disease | Benznidazol | Abarax |
Uses
Abarax (Benznidazol) is indicated in the treatment of Chagas disease (also called American trypanosomiasis). It is an anti-parasitic that produces free radicals which kill the protozoan Trypanosoma cruzi responsible for the disease.
Dosage and Administration
The recommended dose for adults with Chagas disease is 5mg-7mg per kg of body weight taken as two divided dosages. The recommended dose for children (under 12 years old) with Chagas disease is 10mg per kg of body weight taken as two divided dosages. It is recommended to take Abarax for a period of 60 days.
Side effects
Abarax (Benznidazol) can cause a rash and/or nausea, especially in the first couple of weeks of treatment.
More serious side effects that may occur include fever, peripheral polyneuritis and paresthesia. If you notice symptoms of any of these, contact you doctor immediately. You may need to stop taking Benznidazol.
Other side effects that have been rarely reported include leukopenia and agranulocytosis.
Precautions
If you have had liver or kidney problems, or have had any form of blood disorders you will need close medical supervision while taking Abarax.
It is not known how safe Benznidazol is to take while you are pregnant. Because of this, it is advised not not to take Benznidazol during the first trimester of pregnancy. It is also recommended to take it during the 2nd and 3rd trimesters under medical supervision.