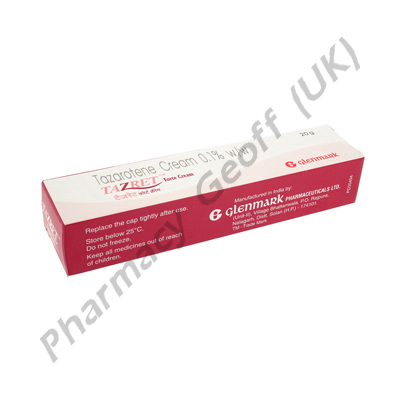 Our price: £4.53
Tazarotene Cream
One of the best retinoid products out there which is very similar to Vitamin A is called Tazarotene Cream. It is often used to help reduce the signs of fine lines and wrinkles. It can also be used to take care of areas on the face that are lighter or darker in pigment than the rest of it. Taarotene can also treat psoriasis, acne and a variety of other skin conditions.
This product should only be used once all dirt and cosmetics have been removed from the face. It should be applied before bed each night. Missing doses of it can reduce the overall benefits from Tazarotene Cream. For the best results it should be applied 20 minutes after the face has been completely washed and dried.
Only an amount the size of a pea should be used to apply over the areas of skin that have discoloration or wrinkles. Donít get this product on other areas of the skin. Using more of this cream than recommended wonít increase the benefits that you get from it. However, it can increase the possible side effects you will experience.
Those side effects include redness, burning, itching, or irritation of the skin. It is important to avoid drying of the skin as that can result in some areas of it peeling. Avoid exposure to the cold and the wind as that will be more likely to increase the risk of dryness.
The use of Tazarotene Cream can increase sensitivity to UV rays. It is very important to avoid too much exposure to sunlight while using it. Even fake tanning facilities can create too much UV exposure. It is important to keep the face washed and well hydrated for the best results. It is a good idea to apply sunscreen, at least 15 SPF, and with moisturizer in it when you are out in the sunlight.