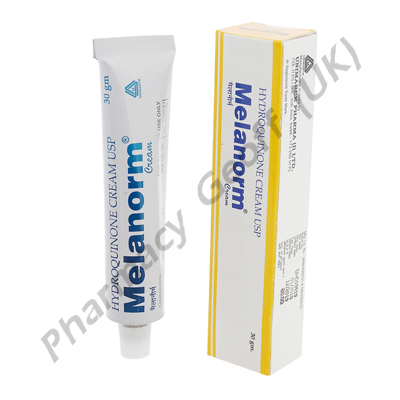 Our price: £6.29
Melanorm is a hydroquinone cream. Hydroquinone cream is a topical skin bleaching agent used to lighten darkened areas of the skin. Such as freckles, age spots, acne scars or chloasma.
This medication works by decreasing the formation of melanin the pigment in skin to lighten its appearance. Your doctor may also recommend its use for the treatment of other unlisted conditions.
How is Melanorm Cream used ?
Melanorm cream is usually applied topically 1-2 times per day, or as directed by the doctor. Consult with the doctor for the correct dosage as it will depend on the patient's condition and their response to the therapy.
Before applying the medication, wash and dry your hand and the affected area thoroughly.
Spread just enough cream to cover the affected area, and gently massage it in. Wash your hand immediately after applying the medication.
Melanorm adverse effects
Patient using the Melanorm Cream may encounter unwanted effects such as :
Buringing, stinging or redness of the applied affected area
Dry or itchy skin
Difficulty breathing or wallowing
Swelling of the face, lips tongue or throat
Dizziness
Contact a doctor immediately should the side effects persist or worsen.
Warning
Apply a small amount of the cream to an area of unbroken skin, and check the area with 24 hous for any serious side effects
Immediately proceed to your nearest emergency department if you suffer an allergic reaction. Symptoms usually associated with such a reaction include difficulty breathing or swallowing, chest tightness, swelling, skin rashes, and hives.
Melanorm Cream is not always suitable for all patients. Always consult your health care provider prior to using this medication if you are pregnant, breastfeeding, trying to conceive, using any other medication (prescription or non-prescription), using any herbal products or supplements, or if you have any allergies or other health problems.
The correct dosage and prescription commonly depend on the patient and the condition being treated. Do not adjust your dosage without the approval of your health care provider. This product is only for use as prescribed and instructed.