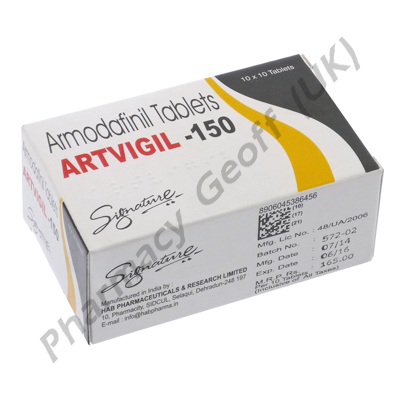 Our price: £8.57
| | | |
| --- | --- | --- |
| Main Use | Active Ingredient | Marketed Name |
| Narcolepsy and sleep disorders | Armodafinil | Artvigil |
Uses
Artvigil (Armodafinil) helps to promote wakefulness and alertness in patients with narcolepsy or shift work disorder. Experts believe that it works by acting on neurons in the central nervous system. The main ingredient in this medicine is an R-enantiomer of the racemic modafinil, and this means that they both act in a similar way. Although all details related to its precise mechanism of action are not yet fully understood, it has been theorized that it may act by enhancing the signalling of certain substances in the brain.
In addition to this, it may affect the GABA system, thereby helping to further improve wakefulness. Dopamine reuptake is also inhibited. Patients with narcolepsy or other conditions that cause them to be tired and sleepy throughout the day are often treated with this medicine, so as to help them feel more awake and alert, thereby minimizing disruption to their daily schedule.
A study has been conducted by experts to examine its effects if used for ADHD. It has also been researched for depression, weight loss, fatigue associated with fibromyalgia, the improving of cognition in patients with multiple sclerosis and depression. Many students believe it can improve memory function and have taken it as a nootropic.
Dosage and Administration
Artvigil (Armodafinil) comes in the form of uncoated tablets, which are administered orally. Prior to the commencement of treatment, you will need to consult a doctor. This will help to ensure that the correct dosage can be properly calculated, and it will also allow the suitability of this medicine as a treatment for your condition to be assessed. In some cases, adults being treated for narcolepsy have been told by their doctor to take 150mg per day, administered in the morning. Patients must never exceed the dosage recommended to them by their doctor.
Side effects
Artvigil (Armodafinil) could cause:
Headache
Perspiration
Poor appetite
Spinning sensation
Problems getting asleep
Make sure that all side effects are reported to your doctor. Should you suffer from any serious reactions, immediate medical attention will be needed. These may include bruises, nosebleeds, a weak feeling in the muscles, hallucinations, aggressive behaviour and other potentially severe side effects not listed here.
Precautions
Prolonged use may increase the risk of dependence. To avoid this, your doctor will direct you to only use it for the minimum amount of time required to relieve your symptoms.
This medicine will not cure your condition and it is also not to be used as a substitute for sleep. You will still need to get sufficient sleep every night during treatment.
Seek immediate emergency medical attention if you suffer an allergic reaction. Symptoms to watch for, which may be indicative of a reaction, include skin rashes, hives, swelling of the face or limbs, trouble breathing, and trouble swallowing.
Always use Artvigil (Armodafinil) as you have been prescribed by your doctor. Never self-medicate or change your dosage without first consulting your doctor. The correct dosage can vary depending on your health, medical history, and the severity of the condition being treated.
This medication may not be safe for all patients. Before you begin using it always disclose the following to your doctor:
If you are pregnant or breastfeeding.
If you suffer from any allergies.
If you suffer from any other health conditions or illnesses.
If you are using any other medicine (including all non-prescription).
If you are using any supplements, vitamins, or herbal products of any kind.