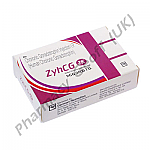 Our price: £16.43
HCG (Human Chorionic Gonadotropin) - 2000iu
Includes 1 x Single Use syringe for injection
Human Chorionic Gonadotropin (HCG or ZyHCG) is an injectible hormone. It is often used as a fertility treatment for women (to promote ovulation) and men (to increase sperm count). HCG can also be used by male youths to assist the testicles to drop into the scrotum. While not approved for this use, some people also take HCG for weight loss.
ZyHCG is a ampuole that will need to be injected. It is usually inected by a doctor or other medical professional. Patients who wish to self-inject should seek instruction from their doctor before doing so. HCG is usually injected into the thigh or buttocks. Dosage will be dependant on the intended use. Please see your doctor for further information.
The most common side effects of HCG and pain and/or inflammation around the site of injjection, as well as headaches or restlessness. Tell your doctor immediately if you experience allergic reactions, early puberty, gynecomastia (tender or puffle nipples), changes to vision, inflammation around the feet or ankles, mood or behavioral changes.
HCG should not be taken by pregnant or breastfeeding women. You should always discuss any current treatments (prescriptions or non-prescription, supplements, natural remedies) you are taking with your doctor before taking HCG.