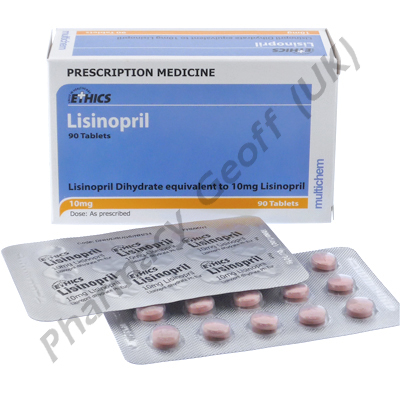 Our price: £10.50
| | |
| --- | --- |
| Brand Name: | Ethics Lisinopril |
| Generic Name: | Lisinopril |
| Form: | Tablets |
| Manufacturer: | Multichem Ltd. |
What is Ethics Lisinopril?
Ethics Lisinopril (Lisinopril) is an oral ACE inhibitor prescribed to treat patients suffering from hypertension or heart failure. The medication works by widening your blood vessels to increase your blood flow and is usually used in conjunction with diuretic or fluid tablets.
How is Ethics Lisinopril used?
When taking Ethics Lisinopril, follow your health care providers instructions. Do not stop taking Ethics Lisinopril or alter your dose in any way unless your health care provider advises you do so. Ethics Lisinopril is taken with or without food at the same time every day. Take with a full glass of water. If you miss a dose, do not take the skipped dose if it is close to your next dose. Just take the next dose and continue as normal. Do not double your dose of Ethics Lisinopril. If you are at all unsure contact your health care provider for advice.
Adverse effects
The mild side effects of Ethics Lisinopril include dizziness, a dry cough, mild stomach upsets or pain, headaches, fatigue, diarrhea, and lightheadedness. They should not last long but if they persist or worry you, contact your health care provider. Rare side effects of Ethics Lisinopril include numbness or tingling in your hands and feet, tongue or mouth ulcers, an itchy rash or other skin problems, infections, a sore throat, severe chills, bruising easily, and passing less urine. These symptoms can be serious so consult your health care provider immediately if you experience any of the above symptoms.
Warnings
Immediately proceed to your nearest emergency department if you suffer an allergic reaction. Symptoms usually associated with such a reaction include difficulty breathing or swallowing, chest tightness, swelling, skin rashes, and hives.
Ethics Lisinopril is not always suitable for all patients. Always consult your health care provider prior to using this medication if you are pregnant, breastfeeding, trying to conceive, using any other medication (prescription or non-prescription), using any herbal products or supplements, or if you have any allergies or other health problems.
The correct dosage and prescription commonly depend on the patient and the condition being treated. Do not adjust your dosage without the approval of your health care provider. This product is only for use as prescribed and instructed.