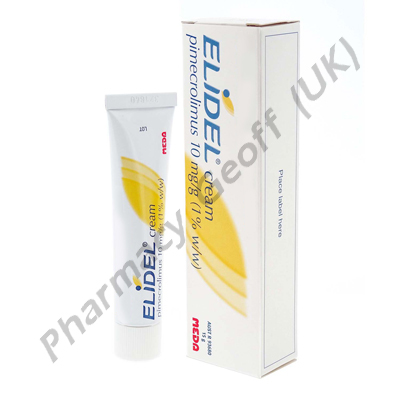 Our price: £51.90
| | | |
| --- | --- | --- |
| Main Use | Active Ingredient | Marketed Name |
| Eczema | Pimecrolimus | Elidel Cream |
Uses
Elidel Cream (Pimecrolimus) is a topical cream used for the treatment of skin inflammation occurring as a result of eczema (atopic dermatitis). Other conditions for which patients have used it for include vitiligo, psoriasis, seborrhoeic dermatitis, cutaneous lupus erythematosus and lichen planus. Its active ingredient belongs to a class of medicines known as TCIs (topical calcineurin inhibitors).
It acts in the skin and inhibits the production of chemicals known as cytokines, which the white blood cells produce as part of an immune system response to allergies. These chemicals cause skin inflammation. By preventing the production of cytokines, this cream effectively helps to lessen skin inflammation.
Dosage and Administration
Elidel Cream (Pimecrolimus) is not used on a long term basis. Patients must only apply it to the skin as directed by their doctor, and care should be taken to ensure that it is only applied to skin that is affected by symptoms of eczema. Doctors usually tell patients to apply it twice per day for a period lasting as long as 6 weeks. If no signs of improvement in symptoms are noticed after this, you will need to visit your doctor again.
Side effects
Treating skin conditions with Elidel Cream (Pimecrolimus) may cause side effects, such as:
Warts
Nosebleeds
Swelling of the hair follicles
Sensitivity to heat or coldness
Burning or stinging sensation affecting the skin that has been treated
Side effects should be reported to your doctor. You must immediately consult your doctor if you notice fever, pain affecting the ears, blisters, a severe burning sensation, skin infection or any other serious side effects which have not been listed here.
Precautions
In rare cases, patients who have used this cream have experienced skin cancer. If you notice unusual growths on the skin, see your doctor immediately. You may also be more likely to experience skin infections. Medical attention will be required as soon as possible if a skin infection occurs.
This medicine may not be suitable for patients affected by Netherton's syndrome.
Seek immediate emergency medical attention if you suffer an allergic reaction. Symptoms to watch for, which may be indicative of a reaction, include skin rashes, hives, swelling of the face or limbs, trouble breathing, and trouble swallowing.
Always use Elidel Cream (Pimecrolimus) as you have been prescribed by your doctor. Never self-medicate or change your dosage without first consulting your doctor. The correct dosage can vary depending on your health, medical history, and the severity of the condition being treated.
This medication may not be safe for all patients. Before you begin using it always disclose the following to your doctor:
If you are pregnant or breastfeeding.
If you suffer from any allergies.
If you suffer from any other health conditions or illnesses.
If you are using any other medicine (including all non-prescription).
If you are using any supplements, vitamins, or herbal products of any kind.