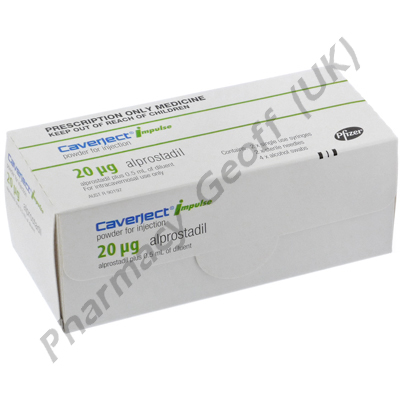 Our price: £119.90
| | |
| --- | --- |
| Brand Name: | Caverject Impulse Injection |
| Generic Name: | Alprostadil |
| Form: | Syringe |
| Manufacturer: | Pfizer |
*0.3mm x 13mm injecting needle included*
What is Caverject Impulse Injection?
Caverject Impulse Injection is used by men to treat erectile dysfunction, the inability to get or keep an erection. The active ingredient alprostadil is considered a vasodilator type of medication. The medication works by relaxing the blood vessels and muscles in the penis to improve blood flow while keeping enough blood to achieve and maintain an erection.
How is Caverject Impulse Injection used?
Caverject Impulse Injection should only be injected into the penis as directed by a doctor. Apply the medication 5 to 20 minutes before sexual activity and the erection should last for approximately 30 minutes to 1 hour. Contact a doctor for the correct dosage as it will depend on the patient's condition and their response to the therapy. The maximum recommended usage is 3 times per week while waiting at least 24 hours between uses.
Adverse effects
Caverject Impulse injection may cause unwanted side effects such as:
Prolonged erection that lasts 4 hours or longer
Pain in penis
Back pain
Unusual discharge from penis or trouble urinating
Lightheadedness, dizziness or fainting
Headaches
Slight pain, irritation or bleeding at injection site
Contact a doctor immediately should side effects persist or worsen.
Warnings
Always dispose any needles and syringes in a puncture proof container.
Immediately proceed to your nearest emergency department if you suffer an allergic reaction. Symptoms usually associated with such a reaction include difficulty breathing or swallowing, chest tightness, swelling, skin rashes, and hives.
Caverject Impulse Injection is not always suitable for all patients. Always consult your health care provider prior to using this medication if you are pregnant, breastfeeding, trying to conceive, using any other medication (prescription or non-prescription), using any herbal products or supplements, or if you have any allergies or other health problems.
The correct dosage and prescription commonly depend on the patient and the condition being treated. Do not adjust your dosage without the approval of your health care provider. This product is only for use as prescribed and instructed.