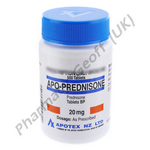 See details
Prednisone - 20mg (500 Tablets)
Prednisone is a type of Corticosteroid. It works to prevent the body from being able to release various chemicals that can result in inflammation. It is used to help reduce the symptoms and effects of various problems including: skin disorders, lupus, arthritis, problems with breathing, Stomach ulcers, various types of allergies.


From only
£51.08

per Pack
---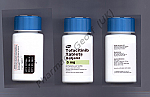 See details
Xeljanz (Tofacitinib) - 5mg (60 Tablets)
Xeljanz (Tofacitinib) is a treatment for moderate to severe rheumatoid arthritis. It is indicated in cases where patients have note reponded to methotrexate or are intolerant to methotrexate. Tofacitinib can be used alone or alongside other medications to treat arthritis. In some situations Tofacitinib is used to treat psoriatic arthritis and ulcerative colitis. Tofacitinib is in a class of medications called Janus kinase (JAK) inhibitors. It works by decreasing the activity of the immune system.


From only
£990.00

per Pack
Currently out of stock. Contact us if you would like to be notified when this product is back in stock.
---