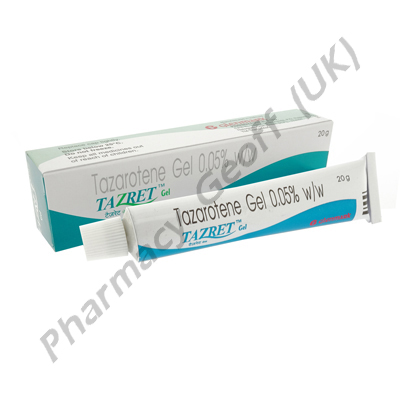 Our price: £10.36
Tazarotene Gel
Tazarotene Gel can be used to treat psoriasis, acne and other skin problems. This is a topical product that can be applied daily. Donít skip days as that will reduce its effectiveness. It can help to clear up Psoriasis outbreaks and also help to prevent them from occurring in the future. Tazarotene is also used as an anti-aging product to reduce lines and wrinkles and lighten skin colouring.
It is important to apply this gel only to the affected skin areas. They should be clean and patted dry before applying. Put on a very small amount in a thin layer and rub it in completed by gently. Donít be harsh or you will risk further irritating the inflamed skin. Only use the product once per day. Using it more wonít improve Psoriasis but it will increase the risk of side effects.
Some individuals with chronic acne have found the use of Tazarotene Gel can reduce those outbreaks. It can also help to minimize the possibility of scars. It can take up to 12 weeks of using this product though before someone sees results in their skin. Being patient and being diligent about using it daily will help.
This product is able to help the skin to be healthy and to be renewed in less time. Some of the side effects that can occur include burning of the skin, itching, and redness. Keep the skin well moisturized to prevent peeling. It is important to limit exposure to UV rays. Always wear sunscreen when outdoors.
It is important to note that the use of Tazarotene Gel can cause irritation of the skin for those that have high levels of sensitivity. It is a good idea to only apply it to one small area for the first couple of days. This will allow you to see how your body responds to it before you use it in a larger capacity.