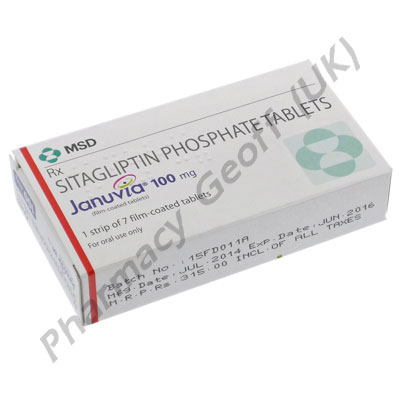 Our price: £14.94
Januvia 100 (Sitagliptin 100mg) - 7 Tablets
Januvia is used to treat type-2 diabetes (non-insulin-dependent diabetes) in cases where glcemic control cannot be obtained by diet and exercise alone. Januvia contains the active ingredient sitagliptin which is a DPP-4 inhibitor (dipeptidyl peptidase-4 inhibitor). Januvia improves insulin levels after meals and decreases the amount of sugar produced by the body. Because Januvia works when blood sugar levels are high, it is unlikely to cause hypoglycaemia.
Januvia Dosage and Administration
Januvia comes packaged as a pack of 7 x 100mg tablets. Januvia 50mg Tablets are also available.
Januvia is an oral tablet to be taken once daily. Swallow the tablet whole with a glass of water. It can be taken with or without food.
Most people take a dosage of 100mg per day, but your doctor may prescribe you a different dosage.
Januvia Side Effects
Most side effects of Januvia are not serious and mild.
Side effects than have been reported with use of Januvia include:
inflammation of the pancreas
kidney problems (sometimes requiring dialysis)
upper respiratory infection
stuffy or runny nose and sore throat
constipation
vomiting
headache
joint pain
muscle aches
arm or leg pain
back pain
itching
Side effect profiles may be different if you are also taking other diabetes medicines including insulin, pioglitazone, metformin, rosiglitazone, and sulfonylurea medicines.
Tell your doctor if you feel unwell when taking Januvia or if you show any signs of an allergic reaction.
Januvia Warnings and Precautions
Januvia is for treatment of type-2 diabetes only. It is not used to treat type-1 diabetes.
Before taking Januvia, tell your doctor if you have had diabetic ketoacidosis (increased ketones in the blood or urine) or any kidney problems.
Januvia is not recommended in pregnant women or women who are breastfeeding or planning to breastfeed.
Januvia can cause pancreatitis (inflammation of the pancreas) is some people. This can be a very serious problem. Tell your doctor immediately if you feel stomach pain while taking Januvia.