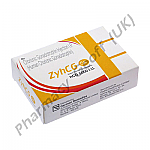 Our price: £19.84
HCG (Human Chorionic Gonadotropin) - 5000iu
Includes 1 x Single Use syringe for injection
Human Chorionic Gonadotropin (HCG or ZyHCG) has several uses. It can increase fertility by increasing a males sperm count or by promoting ovulation in women. In young males with testicular problems HCG can aid the testicles in dropping into the scrotum. Many people also inject HCG as part of a weightloss regimen, although it is not yet approved for this use.
ZyHCG is a brand of human chorionic gonadotropin for use by injection. We supply a syringe with the medicine, and more syringes are also available. A doctor should inject this product for you. For longer use, your doctor may give you direction on how to administer HCG, usually by injecting into the thighs or buttocks.
Because HCG is injected, you may notice pain or tenderness near the injection site. Other side effects auch as allergic reactions, early puberty, gynecomastia (tender or puffle nipples), changes to vision, inflammation around the feet or ankles, mood or behavioral changes should be discussed with your doctor.
Pregnant or breastfeeding women should not use HCG. If you are taking any current treatments (prescriptions or non-prescription, supplements, natural remedies) please discuss the use of HCG with your medical professional.
Special Shipping Information
This product requires refrigeration during shipping. To ensure this products arrives safely, it may only be shipped using our Courier Shipping option.