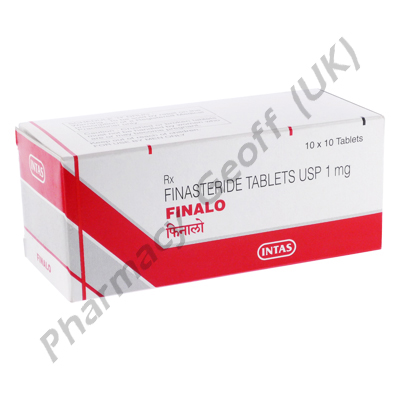 Our price: £3.19
| | |
| --- | --- |
| Brand Name: | Finalo |
| Generic Name: | Finasteride |
| Form: | Tablets |
| Manufacturer: | Intas Pharmaceuticals Ltd. |
What is Finalo?
Finalo is used by adult men to treat male pattern baldness (androgenetic alopecia) in the middle of the scalp or at the crown. The active ingredient finasteride works by preventing the conversion of testosterone into dihydrotestosterone (DHT) in the body to slow hair loss and promote hair regrowth. When used in higher doses, the tablets can be used to treat other symptoms such as hormone replacement therapy and benign prostatic hypertrophy (BPH).
How is Finalo used?
Finalo should be taken as directed by a doctor, usually once per day. The tablets should be taken with plenty of water but can be taken with or without food. Contact a doctor for the correct dosage as it will depend on the patient's condition and their response to the medication. The medication may take up to 3 months before the effectiveness is noticed. Do not discontinue the medication without consulting a doctor as abruptly stopping the medication may cause the loss of all newly regrown hair within 1 year.
Adverse effects
Finalo may cause unwanted side effects such as:
Depression
Difficulty breathing or swallowing
Breast enlargement, tenderness, swelling or discharge
Testicular pain
Decreased volume of ejaculation
Decreased sex drive or performance
Erectile dysfunction
Contact a doctor immediately should side effects persists or worsen.
Warnings
Immediately proceed to your nearest emergency department if you suffer an allergic reaction. Symptoms usually associated with such a reaction include difficulty breathing or swallowing, chest tightness, swelling, skin rashes, and hives.
Finalo is not always suitable for all patients. Always consult your health care provider prior to using this medication if you are pregnant, breastfeeding, trying to conceive, using any other medication (prescription or non-prescription), using any herbal products or supplements, or if you have any allergies or other health problems.
The correct dosage and prescription commonly depend on the patient and the condition being treated. Do not adjust your dosage without the approval of your health care provider. This product is only for use as prescribed and instructed.