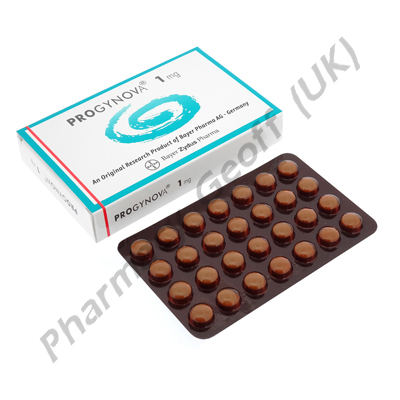 Our price: £8.65
Pre-Order
(Available in 7-14 Days)
Estradiol Valerate (Progynova) 1mg
Menopause can be a very frustrating time for any woman. The changes in body temperature, mood swings, and more can be overwhelming. Hormone replacement therapy though helps to get the estrogen levels back to where they should be. One medication that can help with this is Estradiol Valerate. Another reason why it is commonly prescribed is that it can help with reducing the risk of osteoporosis.
The daily dose of Estradiol Valerate is very low, only about 2 mg per day. It is very important not to take more of it as that can cause severe side effects. Do your very best to remember to take it daily. If you miss any doses you will find it gets harder and harder to successfully be able to control your hormone levels.
Since many women experience nausea or vomiting with the use of Estradiol Valerate, it isnít recommended to take it on an empty stomach. Take it with food or after you get done eating. Always try to consume it at the same time every day for the best results. It is important to get enough rest, to eat right, and to get daily exercise when you are going through menopause.
There are some side effects that can occur when you take Estradiol Valerate. If you are prone to migraines they may increase in frequency. The breasts may be come tender and have some discharge. Feeling tired out and fatigued can occur for the first few weeks of use. There can be some sharp abdominal pain that comes and goes.
This isnít a good type of hormone replacement therapy for any woman that has been diagnosed with depression. Make sure you discuss that issue with your doctor. If you have any problems with blood clots you should refrain from taking this medication. Women with a family history or personal history of breast cancer also arenít good candidates for Estradiol Valerate.