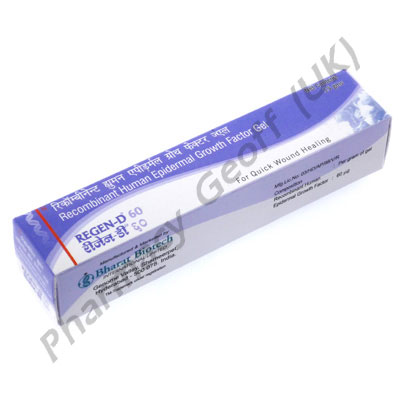 Our price: £61.95
EGF Cream
EGF Cream (Epidermal Growth Factor Cream) as a Skin Treatment
EGF Cream (Epidermal Growth Factor Cream, Regen-D) contains recombinant human growth hormone. It can be used to treat a vareity of skin conditons including acne and scarring and is helpful for treating wounds. It is also very popular as an anti-again cream. The vitamins, minerals and amino acids in combination with the moisturizing qualities help nourish the skin cells promoting skin elasticity and reducing lines and wrinkles.
EGF Cream Dosage
Apply EGF Cream once per day to clean and dry skin.
EGF Cream Side Effects
EGF Cream is that a person may promote hairloss after prolonged use. It can be toxic if a person uses too much of it at any given time. Therefore anyone using it should make sure they carefully adhere to the directions.
Other side effects possible when taking EGF Cream may be a stinging sensation or skin irritation. Apply to a small area first to make sure EGF cream will not result in any skin problems before treating the entire area.
Special Shipping Information
This product requires refrigeration during shipping. To ensure this products arrives safely, it may only be shipped using our Courier Shipping option.