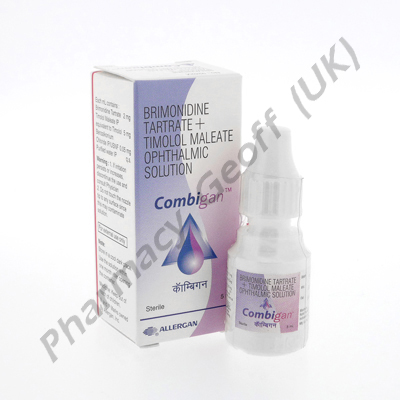 Our price: £19.90
| | |
| --- | --- |
| Brand Name: | Combigan |
| Generic Name: | BRIMONIDINE TARTRATE/TIMOLOL |
| Form: | Solution |
| Manufacturer: | Piramal Healthcare Ltd. |
What is Combigan?
Combigan contains 2 active ingredients used in the treatment of open angle glaucoma and ocular hypertension. The active ingredient brimonidine is an alpha agonist that works by constricting blood vessels to reduce watery fluids flowing into the eyeball. The other active ingredient timolo is a beta blocker type of medication that reduces the amount of fluid formed in the eye. Both active ingredients can help decrease the synthesis of aqueous humor and reduce pressure in the eye to prevent nerve damage or vision loss.
How is Combigan used?
Combigan is usually applied twice daily to the eye unless otherwise directed by a doctor. Contact a doctor for the correct dosage and length of treatment as it will depend on the patient's condition and their response to the therapy.
Prior to applying the eye drops, wash your hands thoroughly with soap and water to prevent contamination. Pull down the lower eyelid with a finger and form a pocket. Tilt the head back and while looking up, gently squeeze the dropper to allow a single drop into the pocket. Close your eyes for 1 to 2 minutes while looking down. Apply pressure to the inside corner of the eye to prevent any medication from leaking through the tear ducts. Repeat as necessary for any additional doses in each affected eye.
Adverse effects
Patients using Combigan may encounter unwanted side effects such as:
Temporary blurred vision
Burning, stinging, itching or redness of the eye
Watery or dry eyes
Dry mouth
Headaches
Dizziness or drowsiness
Red or swollen eyelids
Sensitivity to light
Contact a doctor immediately should side effects persist or worsen.
Warnings
Wait at least 15 minutes after applying the medication before putting on contact lenses.
Immediately proceed to your nearest emergency department if you suffer an allergic reaction. Symptoms usually associated with such a reaction include difficulty breathing or swallowing, chest tightness, swelling, skin rashes, and hives.
Combigan is not always suitable for all patients. Always consult your health care provider prior to using this medication if you are pregnant, breastfeeding, trying to conceive, using any other medication (prescription or non-prescription), using any herbal products or supplements, or if you have any allergies or other health problems.
The correct dosage and prescription commonly depend on the patient and the condition being treated. Do not adjust your dosage without the approval of your health care provider. This product is only for use as prescribed and instructed.