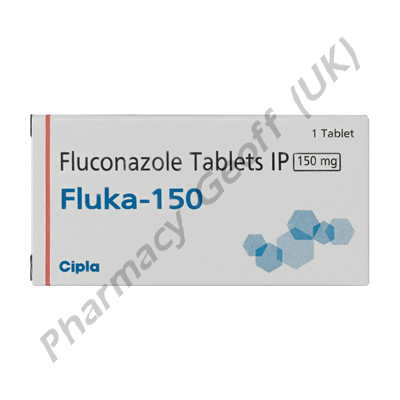 Our price: £1.90
| | |
| --- | --- |
| Brand Name: | Fluka |
| Generic Name: | Fluconazole |
| Form: | Tablets |
| Manufacturer: | Cipla |
What is Fluka?
Fluka (Fluconazole) is an azole antifungal agent used in the treatment of vaginal yeast infections. A single dose usually stops the growth of most common types of vaginal yeast or fungus.
How is Fluka used?
Fluka is sold as a single tablet containing 150mg of Fluconazole.
Fluconazole is an oral tablet, usually taken alone as a single dose.
Fluconazole should show some signs of improvement within a few days.
Adverse effects
Fluconazole has been linked to a potentially fatal heart condition known as QT prolongation. This is a very rare event, however certain medical conditions and certain medicines can increase the risk of QT prolongation. QT prolongation can infrequently result in serious (rarely fatal) fast/irregular heartbeat and other symptoms (such as severe dizziness, fainting) that require urgent medical attention.
Common side effects of Fluka (fluconazole) include:
nausea
diarrhea
stomach pain
headache
dizziness
More severe side effects that you should seek medical advice for include:
severe stomach/abdominal pain
persistent nausea/vomiting
yellowing eyes/skin
dark urine
unusual tiredness)
rash
itching
swelling
severe dizziness
trouble breathing
Warnings
Before taking Fluka (fluconazole), tell your doctor if:
you are taking any prescriptions medicines or over-the-counter medications
you have any past or present medical conditions
you have any allergies, particularly any allergies to antifungal agents
this is your first vaginal yeast infection
this is the 2nd such infection within a two-month period
treatment is for a girl under 12 years old
you have heart problems (or a family history of heart problems)
you have low levels of blood potassium or magnesium
you are taking diuretics
you have any liver problems
you have any kidney problems
Fluconazole should only be used pregnant if your doctor thinks it is necessary. Taking Fluka during the first three months of pregnancy can cause harm to the fetus.
Some people will become dizzy when taking fluconazole. Do not drive a car or operate machinery until you know how Fluconazole will affect you.
Limit alcohol consumption while taking fluconazole.