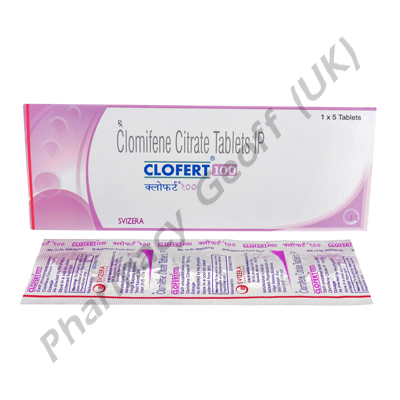 Our price: £5.90
| | |
| --- | --- |
| Brand Name: | Clofert-100 |
| Generic Name: | Clomifene Citrate |
| Form: | Tablets |
| Manufacturer: | Svizera Healthcare |
What is Clofert-100?
Clofert containing the active ingredient clomifene is considered an ovulatory stimulant or non steroidal fertility type of medication. The medication is used to treat some types of infertility in women that is caused by problems with ovulation such as polycystic ovary syndrome. It works by causing the pituitary gland to release hormones required to stimulate ovulation. It should not be used for women whose ovaries no longer make eggs properly (primary pituitary or ovarian failure).
How is Clofert-100 used?
Clofert is usually taken orally once per day or as directed by a doctor. The medication should be taken in cycles of 5 consecutive days, starting on around the fifth day of your menstrual cycle. It can be taken with or without food but should be taken with plenty of water. Contact a doctor for the correct dosage and length of treatment as it will depend on the patient's condition and their response to the therapy. Consult a doctor if ovulation occurs but you do not get pregnant after 3 treatment cycles as the doctor may reevaluate your infertility further.
Adverse effects
Patients using Clofert may encounter unwanted side effects such as:
Upset stomach
Bloating
Hot flashes
Headaches
Dizziness
Nausea
Breast discomfort
Contact a doctor immediately should side effects persists or encounter more severe side effects such as:
Vision problems
Pelvic pain
Abnormal vaginal bleeding
Heavy or painful menstrual periods
Rapid weight gain
Change in the amount of urine
Warnings
Immediately proceed to your nearest emergency department if you suffer an allergic reaction. Symptoms usually associated with such a reaction include difficulty breathing or swallowing, chest tightness, swelling, skin rashes, and hives.
Clofert-100 is not always suitable for all patients. Always consult your health care provider prior to using this medication if you are pregnant, breastfeeding, trying to conceive, using any other medication (prescription or non-prescription), using any herbal products or supplements, or if you have any allergies or other health problems.
The correct dosage and prescription commonly depend on the patient and the condition being treated. Do not adjust your dosage without the approval of your health care provider. This product is only for use as prescribed and instructed.