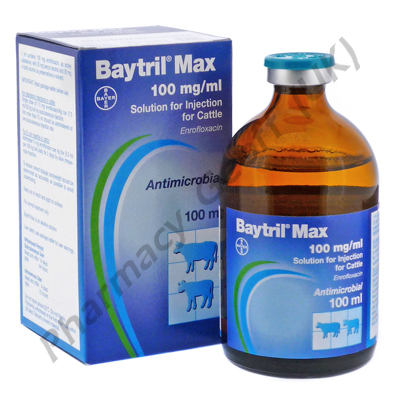 Our price: £160.00
| | |
| --- | --- |
| Brand Name: | Baytril Max |
| Generic Name: | Enrofloxacin/Benzyl Alcohol/Butyl Alcohol |
| Form: | Solution |
| Manufacturer: | Bayer |
What is Baytril Max?
Baytril Max containing the main active ingredient enrofloxacin is considered a fluoroquinolone class of anti-infective medication. The injections are prescribed to treat respiratory diseases in cattle associated with Mannheimia haemolytica, Pasturella multocida, Histophilus somni and Mycoplasma species. The drug is generally reserved for when the clinical conditions have responded poorly to other classes of antimicrobials.
How is Baytril Max used?
Baytril Max should only be administered by a single subcutaneous or intravenous injection. The optimal dosage is 7.5ml per 100kg of the cattle and no more than 15ml should be administered at one injection site. Contact a veterinarian for the correct dosage as it will depend on the cattle's weight and response to the therapy.
Adverse effects
Baytril Max is generally very well tolerated with no side effects.
Warnings
Cattle should not be slaughtered for human consumption for up to 14 days after injection. Milk for human consumption must not be taken until after 84 hours from the last treatment.
Immediately proceed to the veterinarian if your pet suffers an allergic reaction. Symptoms usually associated with such a reaction include difficulty breathing or swallowing, chest tightness, swelling, skin rashes, and hives.
Baytril Max is not always suitable for all animals. Always consult your veterinarian prior to using this medication if your pet is pregnant, breastfeeding, breeding, using any other medication (prescription or non-prescription), using any herbal products or supplements, or if it has any allergies or other health problems.
The correct dosage and prescription commonly depend on the animal and the condition being treated. Do not adjust the dosage without the approval of your veterinarian. This product is only for use as prescribed and instructed.