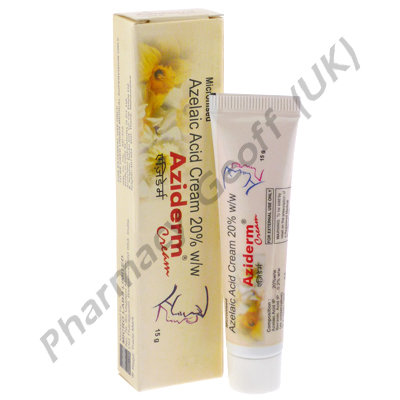 Our price: £6.90
| | |
| --- | --- |
| Brand Name: | Aziderm Cream |
| Generic Name: | Azelaic Acid |
| Form: | Cream |
| Manufacturer: | Micros Labs Limited |
What is Aziderm Cream?
Aziderm Cream containing the active ingredient azelaic acid belongs to a class of medications called dicarboxylic acids. The medication works by reducing the food source of bacteria on the skin to inhibit their growth and unblock pores. By opening the pores and keeping them unblocked, the cream can allow the skin to renew itself more quickly and reduce acne pimples and blackhead formation.
How is Aziderm Cream used?
Aziderm Cream is usually applied topically twice per day, once in the morning and once at night unless otherwise advised by the doctor. Contact a doctor for the correct dosage and length of treatment as it will depend on the patient's condition and their response to the therapy. Prior to applying the cream, wash and dry the affected area with mild soap and water. To administer the medication, apply a thin layer of the cream onto the affected area and gently massage it into the skin. Do not cover the treated area with any dressings, wrappings or bandages after applying the cream.
Adverse effects
Patients using Aziderm Cream may encounter unwanted side effects such as:
Stinging, burning or itching at application site
Tingling sensation
Dry skin
Photosensitivity
Changes in skin color
Unusual hair growth
Contact a doctor immediately should side effects persist or worsen.
Warnings
Immediately proceed to your nearest emergency department if you suffer an allergic reaction. Symptoms usually associated with such a reaction include difficulty breathing or swallowing, chest tightness, swelling, skin rashes, and hives.
Aziderm Cream is not always suitable for all patients. Always consult your health care provider prior to using this medication if you are pregnant, breastfeeding, trying to conceive, using any other medication (prescription or non-prescription), using any herbal products or supplements, or if you have any allergies or other health problems.
The correct dosage and prescription commonly depend on the patient and the condition being treated. Do not adjust your dosage without the approval of your health care provider. This product is only for use as prescribed and instructed.