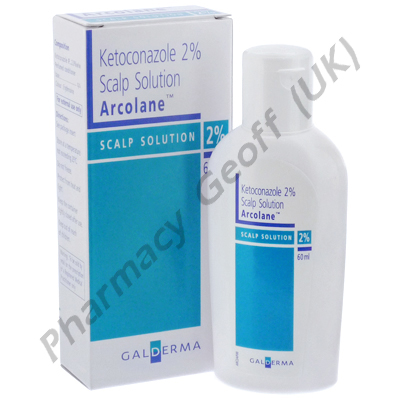 Our price: £8.99
| | |
| --- | --- |
| Brand Name: | Arcolane |
| Generic Name: | Ketoconazole |
| Form: | Shampoo |
| Manufacturer: | Galderma |
What is Arcolane Shampoo?
Arcolane can help relive the symptoms of dandruff (itching, scaling and flaking). It is a medicated shampoo containing ketoconazole - an anti-fungal agent. Arcolane (ketoconazole) is also often used alongside finasteride and dutasteride for optimum results when treating hairloss.
How is Arcolane Shampoo used?
wet the scalp and hair
apply Arcolane shampoo into the palm of your hand, then massage and lather into hair and scalp
rinse well with warm water
repeat above steps if necessary
dry the scalp and hair
Adverse effects
Some irritation of the scalp, rash on the scalp or pimple-like bumps on the scalp can result from using Arcolane shampoo. Dryness or oiliness of the scalp may also result.
Warnings
If you notice any signs of an allergic reaction to Arcolane, discontinue using Arcolane and contact your doctor.
Arcolane is an anti-dandruff medicated shampoo and should not be used as a regular shampoo by anyone who it was not prescribed for.
If you are allergic to anti-fungal medicines, do not use Arcolane (ketocaonazole).