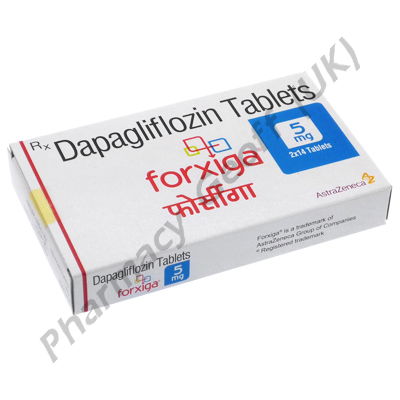 Our price: £57.00
Pre-Order
(Available in 7-14 Days)
| | | |
| --- | --- | --- |
| Main Use | Active Ingredient | Marketed Name |
| Type 2 diabetes | Dapagliflozin | Forxiga |
Uses
Forxiga (Dapagliflozin) is a a sodium-glucose cotransporter 2 (SGLT2) inhibitor. It is used along with diet and exercise to treat type 2 diabetes in some patients. It lowers the amounts of sugar absorbed by the body and increases the amount of sugar that exits the body in the urine.
Dosage and Administration
The most common starting dosage of Forxiga (Dapagliflozin) is 5mg per day. Your doctor will advise you about your required dosage.
Forxiga (Dapagliflozin) can be taken with or without food. It is usually taken in the morning.
Side effects
The most common side effects reported with Forxiga (Dapagliflozin) are a runny nose and/or sore throat. You may also experience dizziness and light-headedness. If you notice any other side effects, contact your doctor.
Precautions
If you find Dapagliflozin is causing dizziness, light-headedness, or fainting ou may need to discuss this with your doctor. Some of these effects can be minimalized by sitting up or standing slowly. These effects can be made even worse by alcohol, hot weather, exercise, or fever. Do not drive or operate machinery until you find how you react to Dapagliflozin.
Changes to diet and exercise may be required to get the best results from Dapagliflozin.
Dehydration can prevent Dapagliflozin from working properly. Be sure to maintain an adequate fluid intake, and contact your doctor if you have bad diarrhea or vomiting.
Your doctor may prescribe regular blood tests to ensure your blood sugar levels are normal.