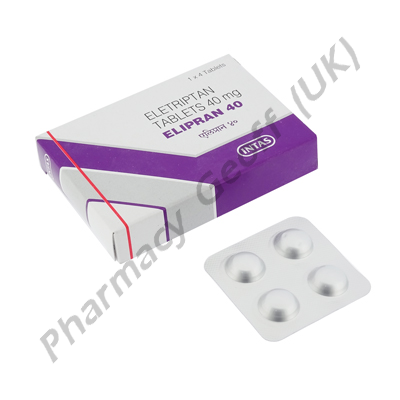 Our price: £9.50
Elipran 40 (Eletriptan) - 40mg (4 Tablets)
Uses
Elipran 40 (Eletriptan) is used for the relief of an adult migraine attack with or without aura.
Eletriptan binds to 5-HT1B, 5-HT1D and 5-HT1F receptors with a high affinity; it has a moderate affinity for 5-HT1A, 5-HT1E, 5-HT2B and 5-HT7 receptors and does not show an affinity for 5-HT2A 5-HT2C, 5-HT3, 5-HT4, 5-HT5A and 5-HT6 receptors. Eletriptan does not possess pharmacological activity with respect to alpha1, alpha2-, beta-adrenergic, D1-, D2-dopaminergic, muscarinic and opioid receptors.
The effectiveness of serotonin receptor agonists in the treatment of migraine is explained by the trigeminovascular hypothesis, according to which, they stimulate 5-HT1 receptors located on the sensory nerve endings of the trigeminal nerve, inhibit the conduction of pain impulses and the release of proinflammatory neuropeptide. On the other hand, serotonin receptor agonists stimulate the similar cerebral vascular receptors, increase arteriovenous anastomoses tone.
It was revealed that eletriptan inhibits the activity of the trigeminal nerve in rats, and in anesthetized dogs it causes a decrease in blood flow in the carotid system in combination with a small increase in blood pressure when using large doses.
Dosage and Administration
Always follow your doctor`s instructions when using Elipran 40 (Eletriptan) to get the safest and most effective results from treatment. The recommended initial dose is 40 mg. The frequency of use depends on the clinical response to the reception.
The maximum daily dose is 160 mg.
Side effects
The use of Elipran 40 (Eletriptan) may cause side effects in some patients including:
paresthesias
dry mouth
dysphagia
dizziness
sleepiness, asthenia
backache
anorexia
constipation / diarrhea
burp
flatulence
arthralgia
hypertension
sweating
Contact your doctor immediately if you experience any serious or worrying symptoms.
Precautions
Pregnancy: Adequate and well-controlled studies in pregnant women have not been conducted, therefore, eletriptan is recommended to be used during pregnancy only if the expected benefit to the mother outweighs the potential risk to the fetus.
Lactation: Eletriptan is excreted in breast milk. The ratio between the average concentration of eletriptan in breast milk and in plasma is 1: 4. The curve "concentration in breast milk - time" for eletriptan is similar to that in plasma for 24 hours. The level of active N-desmethylmetabolite in breast milk was not measured. During breastfeeding Elipran 40 (Eletriptan) should be administered with caution.
Children: In pediatric practice, the safety and efficacy of eletriptan use has not been established, therefore eletriptan is not recommended for use in patients younger than 18 years of age.