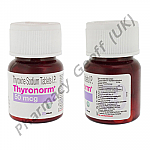 See details
Thyronorm (Thyroxine Sodium) - 50mcg (120 Tablets)
There are many types of thyroid disorders that a person may be dealing with. They include cancer of the thyroid and goiters. A common medication that is offered for these types of concerns is Thyronorm (Thyroxine Sodium or Levothyroxine). This medicine can help with regulating the amount of thyroid hormone that the body produces. Due to various health concerns, there may not be enough of it being produced by the thyroid gland.


From only
£11.83

per Bottle
---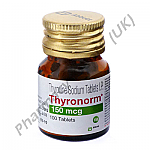 See details
Thyronorm (Thyroxine) - 150mcg (100 Tablets)
There are plenty of health concerns that fall under the umbrella of the body not producing enough of the thyroid hormone. Thyroxine Sodium (Thyronorm or Levothyroxine) is often prescribed to help with producing more of it. The thyroid plays a vital role in regulating energy and mood for a person so when there is a lack of it, a person may not feel very well and their overall quality of life is less than what it should be.


From only
£15.09

per Bottle
Currently out of stock. Contact us if you would like to be notified when this product is back in stock.
---