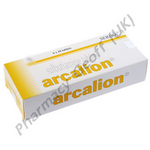 See details
Arcalion (Sulbutiamine) - 200mg (60 Tablets)
Sulbutiamine (Arcalion) is a nootropic that can help improve memory and cognition. A form of synthetic Vitamin B1, sulbutamine is the only type of compound that is used for the treatment of Asthenia. It is often used to help with the treatment of chronic fatigue. Other posible uses include psychogenic erectile dysfunction, thyroid conditions, diabetes, fibromyalgia, kidney disease and post-partum depresion.
---
Our price:
£40.80

per Pack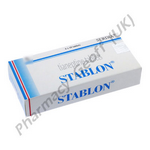 See details
Stablon (Tianeptine) - 12.5mg (10 Tablets)
Tianeptine is an antidepressant that may be prescribed for those suffering from moderate to severe depression. It works to help regulate the amount of the chemical in the brain known as serotonin that is produced. When too much serotonin is being produced a person is likely to have a lower mood. When the levels are reduced though the mood can improve.
---
Our price:
£6.67

per Strip