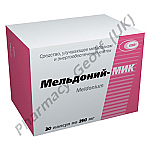 See details
Meldonium-MIC (Meldonium) - 250mg (30 Capsules)
Meldonium-MIC (Mildronate), was developed as a drug to treat ischemia in heart patients. Recently it has received widespread recognition for its performance enhancing qualities in athletes, most notably the failed drug test and subsequent suspension of tennis professional Maria Sharapova. Meldonium improves energy metabolism and speeds up recovery after workouts. Meldonium is also being used as a nootropic drug, as it is a vasodilator and CNS stimulant - both of which can lead to improved cognitive performance.
---
Our price:
£8.76

per Pack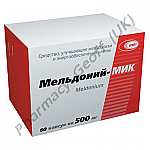 See details
Meldonium-MIC (Meldonium) - 500mg (60 Capsules)
Meldonium-MIC (Mildronate) is an anti-ischemic metabolic modulator. It was originally developed for cardiac patients, however recent studies have shown it can lead to improved physical performance, increased endurance performance in athletes, improved recovery from exercise, protection against exercise-related stress, and enhanced activations of CNS (central nervous system) functions.
---
Our price:
£30.01

per Pack