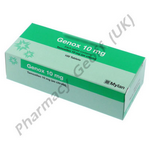 Our price: £35.25
Genox (Tamoxifen) 10mg
Genox (Tamoxifen) is a very powerful medication that is often given to those suffering from breast cancer. While this type of cancer is most common for women, a small percentage of men are also diagnosed with it. It helps to slow down the production of estrogen which is a natural hormone. Females create much more of it than males.
It has been the primary drug given for those with breast cancer for the past 30 years. In the last decade it has also been given to men and women in low doses that are at a high risk of such cancer developing. For those with a family history of breast cancer the use of Tamoxifen can help to lower the chances of them being diagnosed with it.
The dose will vary based on if someone it taking Tamoxifen for cancer prevention or to aggressively fight cancer that is present. The dose will also depend on the severity of the cancer and the body weight of the patient.
There are some side effects that can occur with the use of this medication. For women there can be various concerns that often resemble the onset of menopause. These side effects can include insomnia, hot flashes, and vaginal dryness. Women that have a family history of uterine cancer may be at risk of it developing so regular testing is important.
Both men and women may experience joint pain, cramping in the legs, and cataracts. Individuals using this medication are at a higher than normal risk of blood clots. The use of Tamoxifen should only be used under the close supervision of medical professionals. Never take more of than prescribed. Make sure you notify your doctor to discuss any side effects that are experienced.