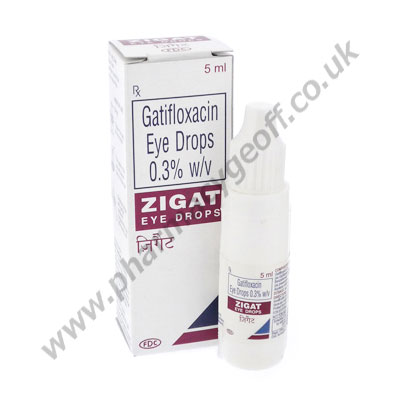 Our price: £2.96
Gatifloxacin Eye Drops
Gatifloxacin Eye Drops (Zigat) are often prescribed to help with taking care of pinkeye and other forms of bacteria that can form around the eyes. It is effective for killing the forms of bacteria that may be the cause of such an infection. This type of medication is classified as a Fluoroquinolone.
This medication is offered in the form of eye drops that are to be used every couple of hours while a person is awake. They can be used up to 8 times per day for a period of 5 days. It is very important to continue to use Gatifloxacin over that period of time even if the pinkeye symptoms disappear. Failure to do so can result in some of the bacteria lingering.
How to Apply Gatifloxacin Eye Drops
Make sure your hands are clean when you go to apply these drops. Avoid directly touching the applicator with your hands or to your eye. You donít want to risk the transfer of the bacteria to the that applicator. You should avoid wearing contacts or using cosmetics for the period of time that you use Gatifloxacin.
Tip the head back and carefully place several drops into the eyes. Then you can allow your eye to remain in that position for a couple of minutes. Immediately place the cap back on the bottle of Gatifloxacin to reduce exposure to any form of contamination.
Gatifloxacin Precautions and Side Effects
Make sure that you tell your doctor about any forms of medication that you use. Include those that you can buy online and over the counter too. It is very important to try to eliminate the consumption of caffeine from your diet while you are using Gatifloxacin.
Someone using these eye drops may experience some side effects. They include redness around the eyes, itchy eyes, tenderness around the eyes, headache, and blurry vision. If serious side effects such as rash, changes in breathing, or changes in heart rate occur immediately discuss the situation with the doctor.