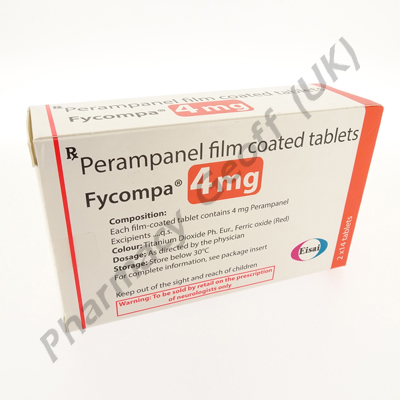 Our price: £33.00
Fycompa 4mg (Perampanel) - 4mg (2 x 14 Tablets)
Uses
Fycompa 4mg (Perampanel) is an antiepileptic medicine and it improves psychomotor function. Perampanel is the first in its class selective non-competitive antagonist of ionotropic α-amino-3-hydroxy-5-methyl-4-isoxazole propionate- (AMPA) glutamate receptors on postsynaptic neurons.
Glutamate is the main excitatory neurotransmitter in the central nervous system, which plays an important role in the pathogenesis of a number of neurological diseases caused by overexcitation of neurons.
Glutamate activation of AMPA receptors is thought to be responsible for the fastest excitatory synaptic transmission in the brain.
Dosage and Administration
Always follow your doctor`s instructions when using Fycompa 4mg (Perampanel) to get the safest and most effective results from treatment. Typically, Fycompa 4mg (Perampanel) is used in a dose of 1 to 3 tablets (4-12 mg) at bedtime, regardless of food intake, 1 time per day.
The tablet must be swallowed whole, washed down with a glass of water, do not chew, crumble or break
The highest daily dose is 12 mg.
Side effects
The use of Fycompa 4mg (Perampanel) may cause side effects in some patients including:
Dizziness, drowsiness
Decreased or increased appetite
Weight gain
Nausea
Aggression, anger, anxiety, confusion
Ataxia, dysarthria, imbalance, irritability
Diplopia, blurred vision
Impaired gait, fatigue
Contact your doctor immediately if you experience any serious or worrying symptoms.
Precautions
When taking Fycompa 4mg (Perampanel) at a dose of 12 mg / day, the effectiveness of progestogen-containing hormonal contraceptives can be reduced. In these cases, it is necessary to provide for the use of additional non-hormonal methods of contraception.
Fycompa 4mg (Perampanel) should not be used during pregnancy unless there is a clear need. Fycompa 4mg (Perampanel) can be prescribed to pregnant women only in rare cases where the expected benefit to the mother exceeds the potential risk to the fetus.
Given the benefits of both breastfeeding for a baby and therapy for a woman, you must stop breastfeeding or refrain from taking/stop taking Fycompa 4mg (Perampanel) during breastfeeding.
Fycompa 4mg (Perampanel) can cause dizziness and drowsiness and thereby affect the ability to drive vehicles and use other mechanisms.