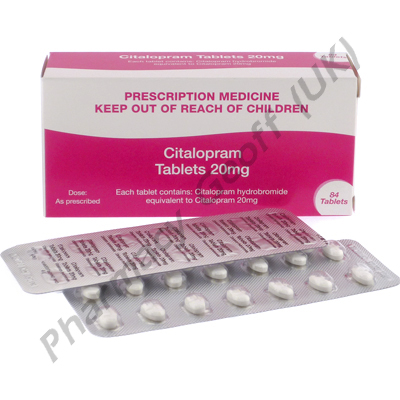 Our price: £9.90
| | |
| --- | --- |
| Brand Name: | Citalopram |
| Generic Name: | Citalopram Hydrobromide |
| Form: | Tablets |
| Manufacturer: | PSM Healthcare |
What is Citalopram?
Citalopram (Citalopram Hydrobromide) can increase energy levels and feelings of well being and is used to treat major depression. It is a selective serotonin re-uptake inhibitor (SSRI) that works by balancing the amount of serotonin in the brain to help maintain mental balance. Some people may also use the medication to treat or prevent anxiety, obsessive compulsive disorder, panic disorder and migraine headaches.
How is Citalopram used?
Citalopram (Citalopram Hydrobromide) is usually taken orally once per day either in the morning or at night. It does not matter whether to take it with or without food, however, to prevent nausea it is recommended to take it with food. Dosage will depend on the patient's condition and their reaction to the medication, contact a doctor for the correct dosage. It is not advised to take over 40mg of the medication in a 24 hour period. Do not stop the treatment without consulting a doctor as it may cause symptoms to return worst than before or cause severe withdrawal symptoms. It may be required to gradually reduce the patient's dosage.
Adverse effects
Citalopram (Citalopram Hydrobromide) may cause side effects such as:
Decreased sex drive or ability
Nausea
Headache
Dizziness
Dry mouth
Insomnia
Increased sweating or urination
Contact a doctor immediately should side effects persist or encounter more severe side effects such as:
Blurred vision
Fainting
Seizures
Irregular heartbeat
Rigid muscles
Hallucinations
Warnings
Patients should not use the medication along with any monoamine oxidase inhibitor (MAOI) as they may interact with each other.
Immediately proceed to your nearest emergency department if you suffer an allergic reaction. Symptoms usually associated with such a reaction include difficulty breathing or swallowing, chest tightness, swelling, skin rashes, and hives.
Arrow-Citalopram is not always suitable for all patients. Always consult your health care provider prior to using this medication if you are pregnant, breastfeeding, trying to conceive, using any other medication (prescription or non-prescription), using any herbal products or supplements, or if you have any allergies or other health problems.
The correct dosage and prescription commonly depend on the patient and the condition being treated. Do not adjust your dosage without the approval of your health care provider. This product is only for use as prescribed and instructed.