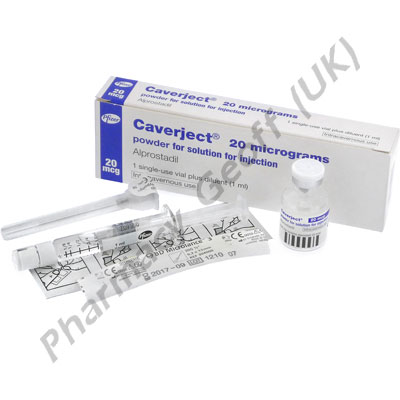 Our price: £35.18
Caverject Impulse
Caverject Impulse and Erectile Dysfunction
*0.3mm x 13mm injecting needle included*
Caverject Impulse is an alprostadil injection that can be injected right into the penis. This form of medication may be prescribed for males that are dealing with erectile dysfunction (ED). It is recommended for causes of erectile dysfunction including nerves, blood vessels, and even an emotional link. This medication allows the blood vessels around the penis to open up so that more blood can flow to them. As a result, a male is able to obtain and maintain an erection.
This medication is very popular due to the excellent results it gets. Some males haven't had good results with various forms of pill medications for erectile dysfunction. Yet they do very well with Caverject Impulse. It is one of the most effective methods for erectile dysfunction without resorting to surgery.
Caverject Impulse is usually given the first time in the doctor's office. After that, a patient is able to do it themselves. A male is typically able to get an erection from 5 to 20 minutes after an injection. The time will vary by individual, so experimenting with the time frame will be necessary.
The dose will also vary, and should only be adjusted by the doctor. Males shouldn't give themselves an injection more than once per 24 hour period. Always use a new needle or syringe when giving an injection. Properly dispose of such needles.
Notify medical professionals if you have an erection that lasts longer than 4 hours after taking Caverject Impulse. Males with Sickle Cell Anemia or Leukemia shouldn't use this medication. Individuals that take Heparin or Warfarin may experience bleeding after using Caverject Impulse.
Approximately 37% of males have reported pain after using this medication for erectile dysfunction. It is important to report such a side effect to your doctor. Taking too large of a dose is a common reason for such pain to occur.