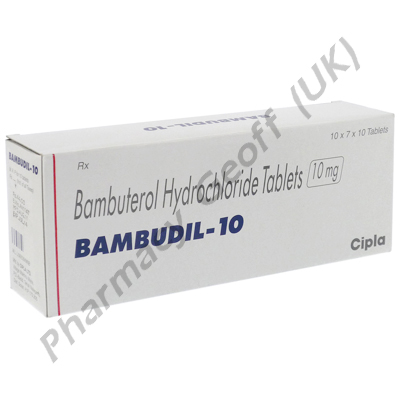 Our price: £4.50
| | | |
| --- | --- | --- |
| Main Use | Active Ingredient | Marketed Name |
| Asthma | Bambuterol | Bambudil |
Uses
Bambudil (Bambuterol) is a type of LABA (long-acting beta-adrenoceptor agonist) indicated for the treatment of breathing difficulties and other symptoms in patients who are suffering from asthma or other related conditions. It works in the lungs and helps to increase the flow of air. The main ingredient in this medicine is a prodrug which is slowly converted to its active form after consumption (the active form is called terbutaline).
When administered, it is metabolised in the lung tissue and has been shown to be highly distributed in the lung. Its method of action involves acting on the beta 2 receptors in the lungs. This results in the airways opening up, making it easier for the air to enter and exit the lungs, allowing for improved breathing in patients affected by asthma, chronic obstructive pulmonary disease, emphysema and other conditions.
Dosage and Administration
Bambudil (Bambuterol) comes as tablets for oral administration. Each tablet contains 10mg of medicine. Treatment with this drug is usually on a regular basis, so as to prevent the occurrence of symptoms. Your doctor will decide the required dosage. Adult patients are usually told to start out on a dosage ranging from 10mg to 20mg (the exact amount will be determined by your doctor). Patients who are told to start out with 10mg per day may have their dosage increased to 20mg daily after a period of 1 to 2 weeks, depending on the opinion of their doctor. In most cases, the tablet is administered before going to bed. Never take more than the amount your doctor tells you to take.
Side effects
If you are being treated with Bambudil (Bambuterol) it is possible that side effects will occur, such as:
Cramps
Shaking
Insomnia
Headaches
Restlessness
Ensure that your doctor is informed of any side effects which you experience during treatment. You will require medical treatment straight away if you experience any serious breathing problems or other severe reactions.
Precautions
Patients who are suffering from asthma which is severe in nature may require regular blood tests so as to ensure that low potassium levels do not occur.
If a worsening of your asthma or breathing symptoms occurs, see your doctor straight away.
Seek immediate emergency medical attention if you suffer an allergic reaction. Symptoms to watch for, which may be indicative of a reaction, include skin rashes, hives, swelling of the face or limbs, trouble breathing, and trouble swallowing.
Always use Bambudil (Bambuterol) as you have been prescribed by your doctor. Never self-medicate or change your dosage without first consulting your doctor. The correct dosage can vary depending on your health, medical history, and the severity of the condition being treated.
This medication may not be safe for all patients. Before you begin using it always disclose the following to your doctor:
If you are pregnant or breastfeeding.
If you suffer from any allergies.
If you suffer from any other health conditions or illnesses.
If you are using any other medicine (including all non-prescription).
If you are using any supplements, vitamins, or herbal products of any kind.