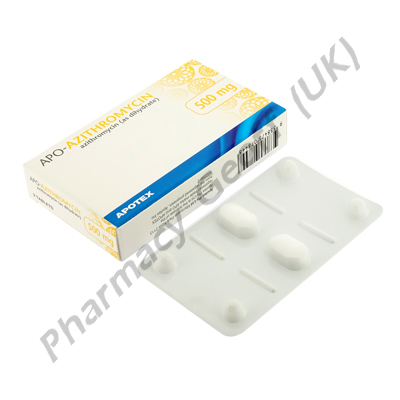 Our price: £7.69
| | |
| --- | --- |
| Brand Name: | Apo-Azithromycin |
| Generic Name: | Azithromycin Dihydrate |
| Form: | Tablets |
| Manufacturer: | Apotex NZ Ltd. |
What is Apo-Azithromycin?
Apo-Azithromycin belongs to a group of medication called macrolide antibiotics. It is used to treat a variety of bacterial infections by killing the bacteria that cause the infection. It can be used to treat conditions such as bronchitis, pneumonia, sexually transmitted diseases (STD), and infections of the ears, lungs, sinuses, skin and throat. The medication cannot be used to treat infections caused by viruses such as the flu or common cold.
How is Apo-Azithromycin used?
Apo-Azithromycin is usually taken orally once daily or as directed by a doctor. To prevent an upset stomach, the medication should be taken with some food along with some water. Contact a doctor for the correct dosage and length of treatment as it will depend on the patient's condition and their response to the therapy. Do not discontinue the medication without contacting a doctor even should symptoms improve, to prevent the bacteria from returning and becoming resistant to antibiotics.
Adverse effects
Patients using Apo-Azithromycin may encounter unwanted side effects such as:
Upset stomach
Diarrhea
Nausea
Vomiting
Dizziness
Fatigue
Hearing problems
Contact a doctor immediately should side effects persist or encounter more severe side effects such as:
Blurred vision
Difficulty breathing or swallowing
Muscle weakness
Irregular heartbeat
Severe or bloody diarrhea
Jaundice
Unusual bleeding or bruising
Blisters or peeling of the skin
Warnings
Immediately proceed to your nearest emergency department if you suffer an allergic reaction. Symptoms usually associated with such a reaction include difficulty breathing or swallowing, chest tightness, swelling, skin rashes, and hives.
Apo-Azithromycin is not always suitable for all patients. Always consult your health care provider prior to using this medication if you are pregnant, breastfeeding, trying to conceive, using any other medication (prescription or non-prescription), using any herbal products or supplements, or if you have any allergies or other health problems.
The correct dosage and prescription commonly depend on the patient and the condition being treated. Do not adjust your dosage without the approval of your health care provider. This product is only for use as prescribed and instructed.