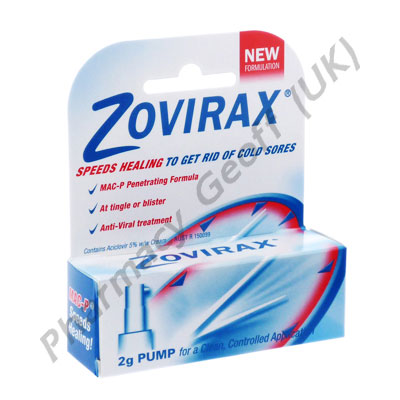 Our price: £27.54
Aciclovir Cream
Aciclovir Cream for Cold Sores
Aciclovir Cream (Zovirax Cream) can reduce the pain, burning, and itching associated with cold sores and help to speed up the healing process. Outbreaks of cold sores and fever blisters can be painful as well as embarrassing. They can also be easily spread if you arenít careful with them. The use of Aciclovir Cream can help to speed up the healing process and also reduce the pain, burning, and itching. This cream works by preventing the virus from being able to grow. Using it at the onset of such an outbreak can mean it wonít get bad and it wonít linger.
Aciclovir Cream should be used only as directed. It needs to be applied to the affected area with clean hands or a q-tip. Make sure you wash the affected area with soap and water before applying the cream. Dry it off too so that the cream will stay in place. Rub it in every 3 or 4 hours to the affected area, with a maximum of 5 applications per day. The duration of use should be 3 or 4 days depending on the severity of the outbreak.
Only use Aciclovir Cream if you are the person that it has been prescribed for. Let your doctor know about any other forms of mediation you use including over the counter items and herbal products. Women who are pregnant or nursing should take caution when using this medicine. It isnít known if it can cause any harm to the baby or the fetus.
It is important to know that the use of Aciclovir Cream wonít do anything towards helping to prevent any future outbreaks for you. There are some side effects that could develop with the use of this product. They include the lips becoming dry or cracked and skin around the affected area may be tender and flaky. Such side effects are generally mild and will clear up after a few days.
This product contains 2gm of Zovirax Cream in a pump pack. A 2gm Zovirax Cream Tube is also available.